,br>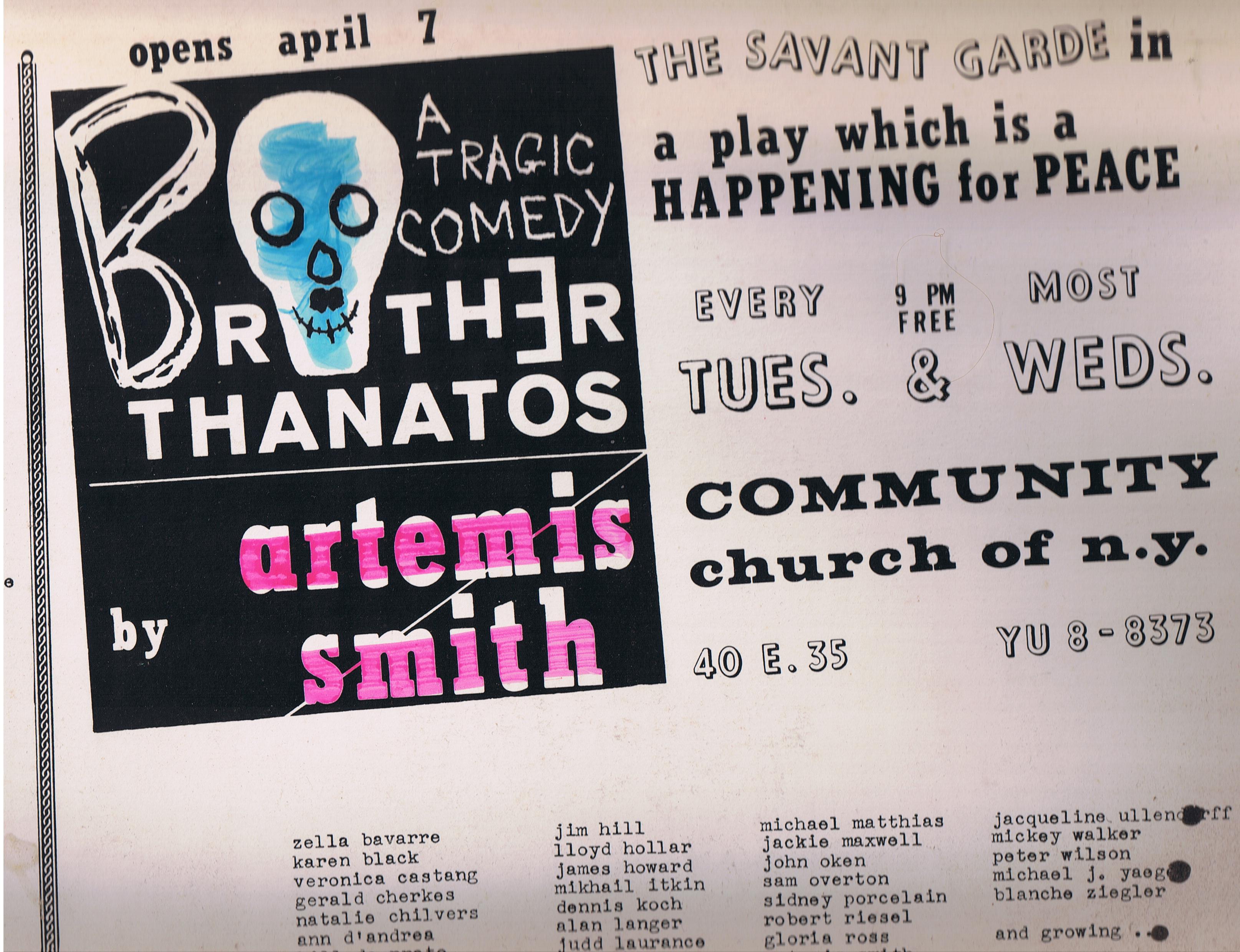 PUBLIC NOTICE
Due to extremely incendiary and, after Columbine,
now even dangerous content, the following Folk Opera/Happening has been
BANNED BY THE AUTHOR
for live performance to large audiences or at rock concerts.
Film, book, cabaret and television rights are still available.

Artemis Smith's
BROTHER THANATOS
a Play that is a Happening for Peace.

(c) 1949, 1964 by artemis smith, U.S. Library of Congress File No. Du 59491. All rights reserved.
Post-performance revised scripts (c) 1964, 1965,1967,1989,2002,2006 by artemis smith. All rights reserved.

This is a FREE READ for fundraising purposes. Our operating expenses are staggering! CLICK HERE to make a generous tax-deductible contribution to THE SAVANT GARDE INSTITUTE through PayPal.



Ten years before Woodstock and five years before
The Rocky Horror Show there was Brother Thanatos!

This morality folk pageant/happening ran for almost two-and-a-half years concurrently with Rainbow civil rights Freedom Marches and Vietnam Anti-War activities hosted by The Community Church of New York in 1964-66. A large number of budding film, stage and television actors were in the cast, including Patricia Fass Palmer (a/k/a Bonnie Franklin) as Thespina, and Pete Wilson (later a Governor of California) as Rovas. The casts changed almost weekly and grew larger as the word got around that everyone in the audience was welcome to participate inside the play/happening. Actors and rock musicians who later became famous took various roles, donning masks and reading from scripts, but didn't pause to list their names on the program for fear of Union reprisal.

In 1963, the play had been revised from an earlier draft written by the Author as a teenager in 1949, and was dedicated to Raymond Duncan and Aia Bertrand, whose experiences during a Freedom Fight in Albania a half-century earlier inspired ArtemisSmith to embellish and shift the emphasis to a more universal theme.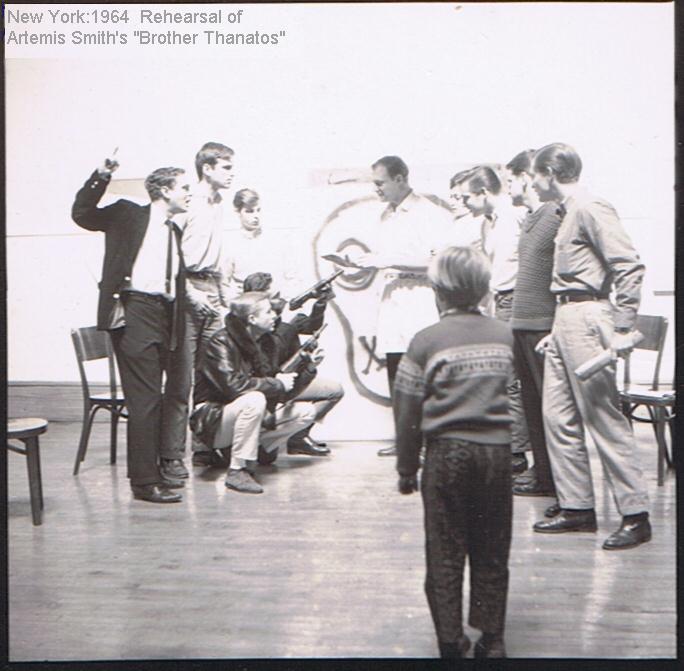 Rehearsal of the original cast. (ArtemisSmith in foreground.) Originally scheduled to open at the Ligoa Duncan Galerie des Artsthen on the Upper East Side, it was moved to a new location to avoid problems with City inspectors who began to target the Art Gallery for its open invitation to increasingly racially diverse audiences.

Needing a more suitable location, the Author applied to the Unitarian-Universalist Community Church on Park Avenue and 35th Street, New York City, then pastored by The Rev. Donald Harrington, Chairman of The Liberal Party.

The Community Church was deeply committed to Vietnam Anti-War activities, as as well as all the human rights movements of the 1960's. Its Community Center concurrently also became the Freedom March organizational headquarters for the Committee on Racial Equality (C.O.R.E.), as well as a meetingplace for local chapters of the various sexual liberation organizations who remembered Artemis Smith as author of the Gay-underground best-sellers Odd Girl, The Third Sex, This Bed We Made.

(As co-founder and principal stylist of the Unisex and Unirace movements and one of the leaders of the 1950's and 1960's Rights Coalition, Artemis Smith's invited address at the second ECHO Conference in Philadelphia during the run of Brother Thanatos initiated the "Come out of the closet!" phase of the Gay Rights Movement.)

Bomb scares and other threats of violence were frequent during the performances. C.O.R.E. workers, Gays, Feminists and other Freedom March recruits often paused from their tasks to populate the audience, taking active part in the performances and often protecting the actors and audience from spillover terrorism.

Although none of the guns in the performance were real, there was real danger from renegade audience participants. In today's even more dangerous climate, this play/happening poses too great a risk to be performed before large groups, and certainly not at rock concerts, which would have been its ideal venue. It is presently restricted to private parties for the super-rich in The Hamptons, where the celebrity audience is required to stip to G-strings and Bikinis. Contact ArtemisSmith at 1-631-725-1414, morpurgo@msn.com to schedule your next high-security Hamptons Happening. (Packaged Productions start at $200,000.00 per revival gig. Coordinate with fundraisers for your favorite charity or political party.)
SETTING FOR THE FOLK OPERA/HAPPENING
The Community Center of "The Anatheistic Church", during a morality pageant involving all the parishioners, who must either take a stand as "Hawks" or "Doves".

Above the Entrance of the Anatheistic Church is the following sign:

CREED OF THE ANATHEISTIC CHURCH OF MUN

DEFINITIONS:
Our Church is the Only Church.
Our Country is the Only Country.
All Our Men and Women are called Mun.
All Our Gods and Goddesses are called Gud.

BOOK OF GENESIS:
In the Beginning was The Word.
And The Word was The Church.
The Church created Mun and Country.
Then Mun and Country created Gud.
Gud has sworn Allegiance to The Church.

Two Schisms of the Anatheistic Church of Mun, HAWKS and DOVES, have separate Hymnals which will be given out by the Deacons to the parishioners, as well as arm bands identifying opposing sides:

CREED OF THE DOVE SCHISM: "Hug Thy Neighbor"
CREED OF THE HAWK SCHISM: "Tug Thy Neighbor"

"


Hawks are to congregate on one side of the hall, where a folk singer will lead them in Hawk songs.

Lyrics for the Hawk Marching Song:
Our eyes have seen the glory of the coming of the Horde
They are stamping out the vintage
where the grapes of Love are stored
They are threshing all dissension
with their terrible swift sword,
Their Truth is marching on.
Glory Glory Hallelujah, Glory Glory Hallelujah,
Glory Glory Halleluja, Their Truth is marching on. (repeat)

STAGE DIRECTION FOR HAWKS: When ordered to march, MARCH-AND-SING the Hawk Song

Doves are to congregate on the other side of the hall where a folk singer will lead them in Dove songs.

Lyrics for the Dove Sit-in Song:(to be sung in defiance of Hawks)

Here is a mun who caught sight of a dream
And hu gave it all up for the smile of the crowd,
Yes, hu gave it all up for the smile of the crowd.
Little mun, where are YOU going?
Little mun, where have YOU been?
Little mun, they told you if you'd play along
And dance their dance and sing their song
That you'd be spared damnation
Well, tarnation, they lied to you, YES, they lied to you
Here is a mun who caught sight of a dream
And hu gave it all up for a dish of ice cream
Yes, hu gave it all up for a dish of ice cream.
Little mun, where are YOU going?
Little mun, where have YOU been?



STAGE DIRECTION FOR DOVES: When ordered to march, SIT-AND-SING the Dove Song

The Creeds and Hymnals are also on the Playbills. These should contain the program, plus specific instructions on audience participation, and the lyrics to the Hawk and Dove songs to be practiced before the performance and sung at the end of the performance.

The parishioners are finally seated to witness the morality play, which is to be done in arena fashion, literally in the midst of the audience. The lights go out.

FROM ALL SIDES OF THE HALL, VOICES OF YOUNG BOYS PLAYING A GAME:

Hey, fellas, let's play a game.
What shall we play?
Let's play war.
Good! You be the bad guys, we'll be the good guys.
Hey, remember now - the gun are real. When we shoot, FALL DOWN.
Yeah, the guns are real, remember that, all you guys.

THEY RUN AROUND IN THE BLACKOUT;

Who's gonna be it?
You're it.
You're it.
You're it.
You're it.

FLASH EXIT. LIGHTS ON TO REVEAL A GRIM BURLESQUE DANCER WEARING FLAGS ON BALLOONS: all countries that have had revolutions, France, Greece, Russia, Cuba, China, Mexico, and the U.S.A. She/He bursts each balloon as she/he dances, but ominously and with no vulgarity.

DANCER: I am the Spirit of Violent Overthrow. Fickle (pop), irresponsible (pop), daring (pop). The play you will see has been written for me (pop). Men look me up when they're bored (pop), or hard up (pop). They drink with me at the corner bar (pop), and sleep with me - in the fields, in the mountains, and even in bed with their wives. I've often been run out of town. Once in a while, I've been called - a pleasant change (pops the U.S.A. balloon).

BLACKOUT

AFTER APPLAUSE, SPIRIT OF VIOLENT OVERTHROW REAPPEARS FOR A CURTAIN SPEECH, IN BATHROBE.

SPIRIT: (AFTER TAKING BOWS) For a moral object lesson, ladies and gentlemen, tonight we will turn our attention to a bit of recent political history. The time, 1829. The place, a little town in inland Greece a day before the Revolution. A romantic time, ladies and gentlemen, one of those best of times. One of my favorite times. Presenting - the office of the Turkish Occupation Forces. Morning. (LAUGHS OMINOUSLY) A fateful morning, on a Friday the Thirteenth just before the Ides of March. (SNAPS HER FINGERS.)
BLACKOUT. LIGHTS ON AGAIN ON SCENE IN PROGRESS.)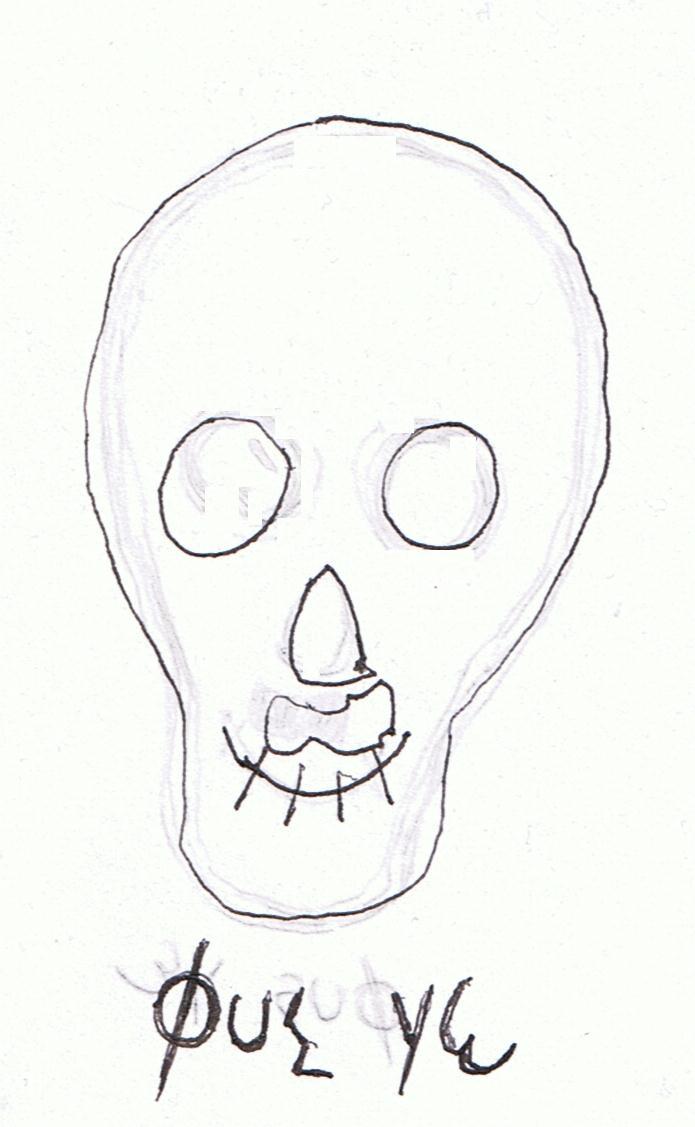 THE MORALITY PLAY NOW BEGINS. THE LIGHTS GO ON TO REVEAL A SHEET WITH A THANATOS PAINTED ON IT, WITH THE WORDS 'FUCK YOU' SPELLED IN GREEK LETTERS UNDER IT. THE SETTING IS VERY MAKESHIFT AND PRIMITIVE, THE LEADING ACTORS ARE ALL YOUNGSTERS WEARING FALSE MUSTACHES AND MAKESHIFT COSTUMES RAIDED FROM SOME ATTIC, PAPER HATS, SOMETIMES PIRATE OR ARMY SURPLUS ATTIRE. THE GUNS ARE ALL TOYS (originally, real toys, but currently, for safety reaons, only painted cardboard cut-outs of toy guns.).

THE CHARACTERS:

The Colonel (a youth in sargent's attire or pirate costume)
The Lieutenant (a youth imitating the Colonel)
Constantine (a youth as a Greek waiter who looks like a wrestler)
Alex (another youth as a Greek waiter who looks like a waiter)
Thespina (a youth as a local fat girl, naked and wrapped in only a sheet)
Gregor (a youth as a local journalist and flower child)
The Mayor (picked from the audience)
Alcibiades (a guerrilla leader like Fidel Castro)
Rovas (a youth as a boy soldier and chicken-shit lieutenant)
Guerrillas, Soldiers and Townspeople, all recruited from the parishioners.



ACT I



SCENE: THE OFFICE OF THE "TURKISH COLONEL" IN A TOWN IN INLAND GREECE, 1829, A DAY BEFORE THE GREEK REVOLUTION. THERE IS A DESK, A TABLE, CHAIRS, FIVE EXITS (TO THE KITCHEN, THE STREET, THE BEDROOM, THE CLOSET, AND TO THE AUDIENCE). THE SCENE OPENS WITH THE COLONEL SHAVING AT HIS DESK (he is using an electric shaver - such anachronisms are to run rampant throughout).

COUPLE IN THE AUDIENCE, IN A LOUD WHISPER:
ONE VOICE: Shaving with an electric razor in 1829? They didn't have electricity in those days, did they?
OTHER VOICE: Shshsh, it's okay. It's battery operated.

THE LIEUTENANT ENTERS FROM THE BEDROOM BUTTONING HIS TROUSERS. WHEN HE SEES THE SKULL, HE DROPS THEM.

COLONEL: Don't just stand there.
LIEUTENANT: What is that?
COLONEL: A Thanatos. Rather well drawn, eh?
LIEUTENANT: What's it doing here?
COLONEL: Don't ask me. Looks like the guerrilla emblem.
LIEUTENANT: Guerillas!
COLONEL: Yes, you know - those fools who sleep in the mud, eat roots off the ground, go around raiding towns, raping women, killing offi- cers - the textbooks show them with yellow teeth, dirty faces and hairy chests.
LIEUTENANT: Are they going to attack?
COLONEL: Don't get excited. It's just vandalism. There hasn't been a guerrilla raid in six years. Come on, sit down. Sit down!
LIEUTENANT: But who would -
COLONEL: Some drunk - anyone in the village. Probably because of the new taxes. Such nonsense!
LIEUTENANT: What are we going to do about it?
COLONEL: Do? I haven't thought about doing anything about it.
LIEUTENANT: Don't you think we ought to do something?
COLONEL: Why?
LIEUTENANT: To show we're tough and not to be trifled with.
COLONEL: Would you rather that it had really been drawn by a guerrilla?
LIEUTENANT: No, but -
COLONEL: What should we do about it? Take hostages? We're already unpopular enough as it is.
LIEUTENANT: But -
COLONEL: But but but but. Stop sputtering. The best thing we can do about it is to ignore it. Do you want people to think they've frightened us with a mere piece of graffiti? Corporal, be a man. (CALLS TO KITCHEN) Constantine. Oh, Constantine -
LIEUTENANT: But Sarge -
CONSTANTINE: (ENTERS AND SALUTES) Yes, Colonel? Yes, Lieutenant?
COLONEL: Come here, Constantine. (ASIDE TO LIEUTENANT) You'll feel better after its off.
CONSTANTINE: (APPROACHES AND SALUTES AGAIN. HE PLAINLY WANTS TO BE A SOLDIER ALTHOUGH HE IS DRESSED AS A WRESTLER FROM THE WAIST UP AND AS A WAITER FROM THE WAIST DOWN) Yes, sir?
COLONEL: How are you this morning, Constantine?
CONSTANTINE: (STARING AT THE THANATOS) Not so well, sir.
COLONEL: Come come, old man, don't be frightened by it. It's just a joke. Some juvenile delinquent sneaked in last night.
CONSTANTINE: No sir, begging your pardon, sir, it was a guerrilla. That's a Thanatos, sir - the guerrilla emblem. It means they plan to burn the town.
LIEUTENANT: (ALARMED) You hear that?
COLONEL: You're giving us an old wives' tale, Constantine. How do you know it was a guerrilla?
CONSTANTINE: Because - because the Thanatos has never been drawn as a joke, sir. It's real. It's watching us. Waiting. Grinning.
LIEUTENANT: For God's sake, stop it!
COLONEL: Constantine, suppose you make a point of getting that thing off our wall, eh?
CONSTANTINE: How, sir. It's paint, sir.
COLONEL: You haven't learned much working for us, have you? White- wash it, like everything else around here.
CONSTANTINE: Yes, sir.

(UNNOTICED BY EVERYONE, THESPINA COMES OUT OF THE BEDROOM WRAPPED IN A BEDSHEET AND YAWNS.)

COLONEL: (RISING) Breakfast ready yet?
CONSTANTINE: Waiting, sir.
COLONEL: Good! (HE AND THE LIEUTENANT START FOR THE KITCHEN)
LIEUTENANT: It better not be baked squirrel with yogurt sauce again.
CONSTANTINE: Nossir. Today's Friday, sir. Yogurt and boiled mush- rooms today, sir.
COLONEL: For breakfast?
CONSTANTINE: Since you levied the new taxes, not even the chickens will speak to me, sir. I had to forage in the woods. It'll be yogurt and mushrooms all week.
LIEUTENANT: Well, they'd better not be toadstools!
CONSTANTINE: I don't think they are, sir. At least, I've already had my breakfast, sir.
THESPINA: (YAWNING) Where am I?
LIEUTENANT: She's up!
THESPINA: (OPENING HER EYES) Oh no! I missed again?
COLONEL: (NODDING) Wrong house!
CONSTANTINE: (SHOCKED) Thespina!
THESPINA: It's not my fault if I walk in my sleep.
LIEUTENANT: She gave us quite a time last night.
CONSTANTINE: Who did she sleep with?
COLONEL: We don't know. By the time she made up her mind, we were both out cold.
THESPINA: Isn't it awful? I've slept in every bed in town and I'm still a virgin.
CONSTANTINE: (TRYING TO LEAD HER BACK INTO THE BEDROOM) I don't know how you get away with it.
THESPINA: It's the Goddess Artemis, I think. She's always rescuing me at the last moment. It's really getting quite annoying. (HER REMARK IS ADDRESSED DIRECTLY TO THE AUTHOR IN THE AUDIENCE, WHO HIDES HER HEAD IN SHAME)
COLONEL: There's certainly some divine providence looking after her.
LIEUTENANT: All I know is, you just need to look at her and it works. Bango! Out cold.
COLONEL: (SIGHING AT THE THOUGHT) Ah, yes. (COLLECTS HIMSELF) To breakfast!
LIEUTENANT: (RELUCTANTLY) Oh, all right.

(THEY EXIT TO THE KITCHEN AND SIT AT A TABLE IN VIEW OF THE AUDIENCE. THESPINA AND CONSTANTINE REMAIN CENTER STAGE.)

THESPINA: (NOTICING THE THANATOS) What's that?
CONSTANTINE: A Thanatos. It's the guerrilla emblem.
THESPINA: (DUMBLY) Oh. It's cute. Did you draw it?
CONSTANTINE: (PATIENTLY AND WITH SOME GUILT) No.
COLONEL: (FROM THE KITCHEN) Oh Constantine, we're waiting.
CONSTANTINE: In a minute, sir. (PUSHES THESPINA INTO THE BEDROOM) Stay in there until I can find you some clothes. (HE SHUTS HER IN THEN GOES INTO THE KITCHEN AND BRINGS OUT THEIR BREAKFAST ON A TRAY. HE ACTS LIKE A WAITER.) Everything all right?
COLONEL: (TASTING) Surprisingly.
LIEUTENANT: (EATING WITH GREAT RELISH) Constantine, you're magnifi- cent. The only cook we've ever had who can make everything taste like shish kebab.
CONSTANTINE: (MODESTLY) Thank you, sir.
COLONEL: You're also the only cook we haven't shot.
LIEUTENANT: For poisoning us.
CONSTANTINE: Yessir, I know, sir.
COLONEL: Where did you learn to cook, Constantine?
CONSTANTINE: My mother taught me, sir.
LIEUTENANT: Your mother?
CONSTANTINE: Yessir.
COLONEL: How come?
CONSTANTINE: Well, sir, it was like this: you know how mothers are, always worried about their sons' having to go into the army? Well, she raised me as a girl to fool the draft board. But when I grew up and it came time for my getting married - and I had to have a dowry. At that point, she changed her mind.
COLONEL: A woman's privilege.
LIEUTENANT: I wish Thespina would stop changing her mind and pick one of us.
COLONEL: You should be very glad she hasn't. We'd have her father on our necks yelling statutory rape and before long it would be an international incident, an example of the atrocities committed by the whole occupational army. We'd have a revolution on our hands. Take it from me, women are the root of all evil.
GREGOR: (POPPING IN FROM THE FRONT DOOR) Dig deeper, gentlemen, dig deeper.
COLONEL: Oh it's you, Gregor.
GREGOR: Hello, Colonel dear. And Lieutenant! (HE SPRINGS IN AND MOVES LIKE A BALLET DANCER. THE LIEUTENANT IS USING A NOISY SALT SHAKER.) Watch out! It's got cyanide!
LIEUTENANT: (DROPS THE SALT SHAKER) Will you stop that!
COLONEL: It's just part of their war of nerves. Don't give in to it. (TAKES THE SALT SHAKER AND USES IT) Come on, interrupt our breakfast if you must, Gregor.
GREGOR: Have you missed me, Sarge - whoops, I mean, Colonel? And you, "Lieutenant", how's your gut this morning? (JABS HIM IN THE STOMACH WITH HIS OWN TRUNCHEON)
LIEUTENANT: (GRABBING HOLD OF THE TRUNCHEON) See here, you - just because you're a newspaperman -
GREGOR: (PULLING THE STICK AWAY AND FENCING WITH IT) Yes?
LIEUTENANT: (BACK TO HIS BREAKFAST AGAIN) Insolent dog.
GREGOR: I seem to detect a certain amount of tell-tale foam around your mouth, "Lieutenant".
COLONEL: Ignore him.
GREGOR: Yes, do go on, don't mind me. I'm just here on a hot news tip. Ah - there it is! (HE PIROUETTES TO INSPECT THE THANATOS AND SIGHS ECSTATICALLY AT IT) What a beautiful pin-up! A striking like- ness of you, "Lieutenant".
COLONEL: You didn't by any chance draw it, did you?
GREGOR: No, but I know who did. I got the pitch from the press agent.
LIEUTENANT: Who?
COLONEL: Some child, no doubt.
GREGOR: A child with an eight-foot reach? Colonel, please!
COLONEL: Well, then, Grandma Moses.
GREGOR: (LAUGHS DAINTILY) Colonel, dear, tell me: have you ever fought a guerrilla?
COLONEL: Yes.
GREGOR: (SITTING ON THE TABLE AND GETTING UNCOMFORTABLY CLOSE) Was he dangerous?
COLONEL: Naturally.
GREGOR: Were you afraid?
LIEUTENANT: Of course not!
GREGOR: (SUDDENLY LEAPING AND SHOUTING) Geronimo! They've landed. They're here. You're surrounded. The guerrillas are here! (HE POINTS OUT THE WINDOW WHICH IS TO THE AUDIENCE. THEY PEER OUT TIMIDLY AND SEE NOTHING.)
LIEUTENANT: Just another of your hoaxes.
GREGOR: Honestly - I got the tip. Right from the horse's mouth.
COLONEL: Impossible. The last bunch was stamped out in the clean- up six years ago.
GREGOR: Every generation breeds new ones, "Colonel." They're camp- ing it up, right outside of town.
LIEUTENANT: Where? I don't see them.
GREGOR: Oh? Can't you see them, "Lieutenant"? They look just like everybody else. But they're out there, waiting.
LIEUTENANT: Waiting for what?
GREGOR: For you to go out and collect the new taxes.
COLONEL: Nonsense! I'm surprised at you, Gregor. Such an obvious hoax.
GREGOR: A hoax, is it? We'll see. (HE POISES HIS PAD AND PENCIL) Well, what's your statement on the need for the new tax?
COLONEL: No comment.
GREGOR: Come now, Colonel, what excuse can I relay to the guerrillas?
COLONEL: You may tell those stupid reformers of yours that the cost of running this town is very high and we can't manage with less.
GREGOR: (WRITING IT DOWN) "If the Colonel and Lieutenant could manage with less, the cost of ruining this town would not be so high."
LIEUTENANT: That's not what he said!
GREGOR: Come now, do you think anyone's fool enough to believe all that money's really going to go back into the town? Well, perhaps it will, if you two spend it all at the tavern.
COLONEL: The taxes have been raised to stop inflation.
GREGOR: How do you figure that one out?
COLONEL: By removing all the extra money floating around, we hope to increase the value of the dollar. Prices on commodities will be reduced, and the economy will be re-established.
GREGOR: Yes, but who will have any money to buy anything?
LIEUTENANT: Why, we will, of course.
COLONEL: (FROWNING AT THE LIEUTENANT) What the Lieutenant means is that we'll be able to distribute the money more equitably - through unemployment benefits, social security, and so on.
GREGOR: And social services.
COLONEL: Yes.
GREGOR: (LAUGHING DAINTILY) Oh, Colonel!
LIEUTENANT: He doesn't believe us!
GREGOR: (DRAMATICALLY) How can you expect me to believe anything you tell me, "Lieutenant"? (BATS HIS EYELASHES AT HIM) Now then, what about the surplus. Where is that going to go?
COLONEL: What surplus.
LIEUTENANT: I think he means our salaries.
COLONEL: See here, Gregor. You're a reasonable man. A little corruption is essential to good government. What would you do if one of those prissy reformers took over?
GREGOR: I admit things could get a lot worse. But no, I can't let you off this time. This time you're going too far.
LIEUTENANT: Why?
GREGOR: Because a little corruption has gotten bigger and bigger. You've been passing more and more impossible laws just so you can get bigger and better bribes. Nobody's done anything up to now because it's been easier to pay you off. So now we've all been turned into accomplices - every one of us has been forced to break the law and keep paying you off.
LIEUTENANT: You know what? He's become an anarchist!
GREGOR: On the contrary - I think there aren't enough laws. We ought to have many more laws - to protect us from the laws! Then even the reformers wouldn't be a threat to the community.
LIEUTENANT: He's too much!
COLONEL: Gregor, please go home.
GREGOR: Are those your final words?
BOTH: Yes.
GREGOR: (DRAMATICALLY CLOSING HIS PAD) The guerrillas won't go easy on you.
LIEUTENANT: You can tell your phony guerrillas that if anything happens to us the Turkish Patrol coming tomorrow will burn down the town.
GREGOR: Turks coming tomorrow? (ALARMED BUT RECOVERS QUICKLY) Great! Perfect! We'll ambush them. There are thousands of guerrillas in the hills.
LIEUTENANT: Thousands?
GREGOR: Maybe more.
COLONEL: Thousands, really!
GREGOR: Yes, thousands, and all because of you two.
LIEUTENANT: Because of us?
GREGOR: Yes, it's all your fault if there are thousands.
COLONEL: How do you figure that?
GREGOR: Because you haven't been mean enough.
LIEUTENANT: Haven't been mean enough!
GREGOR: That's right. You've only half starved us. If you had thoroughly starved us, thousands of us wouldn't have the strength to rise up.
COLONEL: This town has a population of one hundred. Stop exaggerating.
GREGOR: Ah, but guerrillas are fierce. Each one of them is worth a hundred soldiers.
LIEUTENANT: Whose side is he on?
GREGOR: My own.
COLONEL: That's more like it. Come on now, Gregor, be reasonable. Give us a nice writeup. Make us look good. We'll pay you for it. Remind the people of the new highway, and the -
GREGOR: You don't really want me to remind them of the new highway.
LIEUTENANT: - and the middle-income housing project -
GREGOR: (FEIGNS A COUGH) Look, you guys. I'm not giving you a hard time for nothing. It's not because I'm fool enough to suddenly get patriotic, either. Do you think I care at all whether you're Locals or Outsiders? Just how many natives do you think there are in this town? You can barely count them on your fingers. There are a couple of dozen Portuguese, some thirty or forty Turks (mostly half Greek), twenty Armenians, a handful of Koreans and Gypsies and, I believe, two Jewish families hiding in an attic somewhere in the middle of town - but don't ask me where, I'm no snitch.
CONSTANTINE: (FROM THE CORNER WHERE HE HAS STOOD, LISTENING) And don't forget the Irishman who runs the local pub.
GREGORY: Ah yes, how could I forget O'Toole.
LIEUTENANT: Then what's your point?
GREGOR: I'm just here to give you notice - that like all smart rats, I'm about to leave a sinking ship. You stooges are soon going to be in a lot of hot water.
LIEUTENANT: What for?
GREGOR: You boys made a very big mistake. You invaded a country that couldn't even feed itself.
LIEUTENANT: If we had picked on one our own size, we wouldn't have won the war.
GREGOR: Precisely! But now that you've conquered us, you're going to have to pick up the tab. And since you're bankrupt, you're now dependent on foreign aid - and that, gentlemen, is the beginning of the end.
LIEUTENANT: How so?
GREGOR: Because foreign nations won't let you grind us down anymore - and if you can't grind us down, we can start a revolution.
COLONEL: Preposterous! Why should you want a revolution when we're all getting foreign aid?
GREGOR: Because there's not enough aid. And very little way at the bottom. So the bottom's going to come up again. We'll start a revo- lution, create an international crisis, threaten to upset the balance of power - and every major government will try to bribe us with more foreign aid to be on their side.
LIEUTENANT: You're just a dirty opportunist.
GREGOR: And you're a chicken-shit lieutenant.
LIEUTENANT: That does it! (MOVES TOWARD HIM WITH HIS STICK)
GREGOR: (STICKING OUT HIS TONGUE) Come on, come on, let's make the headlines. Newspaper reporter worked over.
LIEUTENANT: (HELPLESSLY) You - you - degenerate!
GREGOR: You prick!
COLONEL: Stop it, both of you! Gregor, go home!
GREGOR: Oh well, I have another appointment, anyway - with a beauti- ful guerrilla. (HE PIROUETTES, BLOWS A KISS AT THE THANATOS, EXITS.)
COLONEL: Good riddance!
LIEUTENANT: Do you think he was serious?
COLONEL: Oh shut up!
LIEUTENANT: Maybe we should fortify the place, just in case.
COLONEL: (NERVOUSLY) It's a hoax! Still, that may not be a bad idea.
LIEUTENANT: The machine guns are in the shed. (THEY MAKE A DASH FOR THE DOOR)
COLONEL: (POPPING BACK) Constantine, whitewash that wall! (EXIT)

CONSTANTINE: Yessir. (HE LOOKS AROUND TO SEE IF THEY ARE OUT OF HEARING RANGE, THEN OPENS THE CLOSET DOOR) All clear, Alex.
ALEX: (ECSTATICALLY) It worked!
CONSTANTINE: Not for long.
ALEX: Why not?
CONSTANTINE: We didn't count on the Turkish patrol.
ALEX: You're right. I'd better tell the boys to go home again until they leave. We'll call it a strategic retreat.
CONSTANTINE: Then they'll know it's all just a hoax. It would be better if they left some kind of trail, leading around the other side of the mountain into the swamp - some trace as if they were really guerrillas.
ALEX: That's a good idea. I'll tell them. The main thing's to keep the enemy worried, never knowing for sure. The main thing's to keep up a cold war, a war of nerves.
CONSTANTINE: I don't think the Colonel will be fooled.
ALEX: It'll take time, but he will be.
CONSTANTINE: If we're not careful, we're liable to start a real revolution.
ALEX: Oh, we'll be careful, all right. Do you think anyone wants to have to run to the hills? My rheumatism will kill me!
CONSTANTINE: Shshsh. They're coming back. Get back in the closet. (PUSHES HIM IN)

LIEUTENANT: (LOADED WITH HEAVY ARTILLERY) Let's see. I think we'll set this up here. (SETS UP MACHINE GUNS AT WINDOWS FACING AUDIENCE)
COLONEL: (SETS UP MACHINE GUNS AT OTHER SIDE) Now let's see the guerrillas.
THESPINA: (COMING OUT OF THE BEDROOM) Say, Constantine, where are those clothes you promised me.
CONSTANTINE: I haven't had time to get them, Thespina. (TRIES TO PUSH HER BACK IN THE BEDROOM, SHE RESISTS)
THESPINA: Let me go. (NOTICES THE ARTILLERY) Are you boys on maneuvers?
COLONEL: Just a few precautionary measures - to preserve the peace.
LIEUTENANT: Thespina, you can have my pair of trousers, if you wish.
THESPINA: Why, that's sweet of yours. I think I will. (GOES TO THE CLOSET TO GET HIS CLOTHES BEFORE CONSTANTINE CAN STOP HER) Why, Alex, what are you doing in the closet?
LIEUTENANT: Alex?
COLONEL: In the closet? (SWINGS THE MACHINE GUN AROUND0 All right, come out with your hands up. (ALEX COMES OUT NERVOUSLY, DUCKS BEHIND THESPINA, THEN RUNS INTO THE BEDROOM AND OUT THE WINDOW) Stop!

LIEUTENANT: Hye! (IN PURSUIT) He got out the back window.
COLONEL: I hope he breaks a leg.
LIEUTENANT: He's doing a good job of running with it. Why didn't you shoot?
COLONEL: And splatter our nice white wall? Besides, my best suit was in the closet.
LIEUTENANT: Oh well, we'll shake him down later.
COLONEL: Now then, Constantine. (POINTING THE MACHINE GUN)
CONSTANTINE: (DUMBLY) Yes, sir?
THESPINA: What's going on around here?
COLONEL: Tell me something, Constantine.
CONSTANTINE: What, sir?
COLONEL: Why was Alex in the closet?
CONSTANTINE: I don't know, sir.
COLONEL: Can't you give me a better answer?
CONSTANTINE: No, sir.
LIEUTENANT: (INSPECTING THE CLOSET) There's a can of black paint in there.
COLONEL: Aha! Conclusive circumstantial evidence! Alex painted the Thanatos.
CONSTANTINE: Oh no, sir, he didn't.
LIEUTENANT: Perhaps you painted it.
CONSTANTINE: Yes, sir. I cannot tell a lie. I painted it, with my little paint brush. (HOLDS UP HIS FINGER)
COLONEL: Why did you do it, Constantine.
CONSTANTINE: Because I'm a guerrilla, sir - a real guerrilla.
LIEUTENANT: He's gone off his rocker.
COLONEL: Insanity won't get you off, Constantine. Get over by the wall. No, not that wall, the dirty wall. (CONSTANTINE STANDS IN FRONT OF THE THANATOS) He'll make good target practice, don't you think?
LIEUTENANT: (TAKING OUT HIS REVOLVER) Let's do it slowly this time - say, six shots.
COLONEL: All right.
CONSTANTINE: You gentlemen wouldn't consider a bribe?
COLONEL: Now what makes you think you can bribe us, Constantine?
LIEUTENANT: We're already withholding your entire salary.
COLONEL: You take the first shot.
LIEUTENANT: Right.
CONSTANTINE: I can't be shot without a trial, sir.
LIEUTENANT: It would be bad publicity.
COLONEL: We'll hang the publicity.
LIEUTENANT: Hang Gregor? Not a bad idea!
THESPINA: (WALKING TOWARDS THEM AND BLOCKING CONSTANTINE0 Hey, what are you fellows doing!
COLONEL: Get her out of here!
CONSTANTINE: Thespina, go home.
LIEUTENANT: (PUSHING HER TOWARD THE AUDIENCE) Come on, Thespina.
COLONEL: Not out front, you fool. Do you want the whole town in here? Back in the bedroom.
LIEUTENANT: (PUSHES HER BACK IN THE BEDROOM AND LOCKS THE DOOR) Now stay there. (RETURNS) Now, where were we?
COLONEL: Shooting Constantine.
CONSTANTINE: I repeat, sir. It's my right to have a trial.
COLONEL: All right, Constantine. We'll give you five minutes. Talk!
CONSTANTINE: Thank you, sir. (PAUSES FOR A SHAGGY DOG STORY)
LIEUTENANT: Well, hurry up, man - defend yourself!
CONSTANTINE: Well, sir, if I must, sir - you see, sir, I can't help what I did - it's the way I was brought up. As you know, I'm not pure Greek - my mother was Turkish, like yourself, sir. But my father - this I never told you, sir - my father was a guerrilla.
COLONEL: (BOTH SOLDIERS SOMEWHAT FRIGHTENED) How did that happen?
CONSTANTINE: Rape, sir. You see, once the guerrillas raided our town and my eldest sister - bless her sweet departed soul - when the guerrilla chief entered the house to rape all the women - well, she threw herself at his feet and said - "Please do anything you like to me, but don't hurt my poor old mother." But at that moment Mother came down the stairs saying - "War is war." And that's how I got to be part guerrilla.

COLONEL: Try again, Constantine.
CONSTANTINE: I insist, sir. It's the guerrilla in me. That's why I had to draw the Thanatos. It's a compulsion. I saw that nice white wall and - it was irresistible, like a newly-painted lavatory wall - you know the feeling, sir.
LIEUTENANT: Is that all you can say for yourself?
CONSTANTINE: Sir, I wish to remind you, sir, that I'm an exception- ally good cook, sir, and that without me you'll have to settle for that greasy mess called Near Eastern Cuisine again, and sir, I'm not the type who would ever try to poison you -
COLONEL: Why not? You're the type to start a revolution - why balk at poison?
CONSTANTINE: I have a great sense of professional integrity, sir. I'd shoot at you in open battle, but never in the kitchen.
LIEUTENANT: You'll never stay alive that way.
COLONEL: We have to admit he makes the only edible baked squirrel in the province.
LIEUTENANT: It might be more fun just to give him a sound thrashing.
CONSTANTINE: Thank you very much, sir.
LIEUTENANT: Besides, if we shoot him and he spills blood all over the floor, who'll we get to mop it up?
COLONEL: All right, acquitted. (THEY HOLSTER THEIR WEAPONS, COLONEL LAUGHS) I suppose we really ought to thank you, Constantine. You've given us enough cause to shake down Gregor and Alex again.
LIEUTENANT: Yeah, what a cleaning we'll make this time!
COLONEL: We'll beat you up tomorrow in front of the patrol. It'll make a good show.
LIEUTENANT: Aw, can't I get a few practice strokes in now? I'm way out of form.
COLONEL: No, leave him alone. Let's go find Gregor.
LIEUTENANT: I'll bet he's in the tavern.
COLONEL: We'll be back later, Constantine. (THEY GO TOWARD THE DOOR) Oh, by the way, don't wash off the Thanatos. Leave it on - we'll show the townspeople who's afraid of guerrillas.
LIEUTENANT: (THROWING KEYS AT CONSTANTINE0 Here - you can let Thespina out of the bedroom now.

CONSTANTINE: (DISGUSTEDLY) Yes, sir. (HE REMOVES THE MACHINE GUNS FROM THE WINDOWS, STRAIGHTENS UP THE OFFICE, THEN UNLOCKS THE BEDROOM DOOR) Come on out, Thespina.

THESPINA: What was that all about?
CONSTANTINE: It's just a game the three of us sometimes play. They pretend to be tough and I pretend to be stupid.
THESPINA: How silly.
CONSTANTINE: It's something we all learned to do when we were little. Haven't you found something to wear yet? Well, go find something. Don't hover over me. I'm a married man.
THESPINA: But your wife is living with Alex.
CONSTANTINE: Hah! Who do you think told her to?
ALEX: (SNEAKING IN FROM THE KITCHEN) Constantine, are you there?
CONSTANTINE: Am I here? What a stupid question.
ALEX: Constantine, are you alive? Speak to me!
CONSTANTINE: If I were dead, I wouldn't answer.
ALEX: Oh Constantine, you're safe! Oh, what a relief!
CONSTANTINE: Get off me!
GREGOR: (COMING IN BEHIND ALEX) Constantine?
CONSTANTINE: Oh, yes, you might as well come in too.
GREGOR: Did they hurt you?
CONSTANTINE: No, but they will, tomorrow. I can't bribe them the way you two can.
ALEX: But that's just the point.
GREGOR: We can't buy our way out this time either.
CONSTANTINE: Why not?
ALEX: The new taxes. The whole town is broke.
GREGOR: They really went too far this time. Why do you think we thought up this mad scheme?

(THESPINA IS SITTING BEHIND BOTH OF THEM. SHE TRIES TO GAIN THEIR ATTENTION BUT NEITHER REALIZE HER PRESENCE. SHE CONTINUES THIS WAY UNTIL SHE FINALLY SPEAKS.)

CONSTANTINE: It wasn't such a mad scheme. Why couldn't we all really be guerrillas?
ALEX: Give that idea up immediately, Constantine. It's way out of the question.
GREGOR: Absolutely out of the question.
CONSTANTINE: But think of it - free as birds, no housework, no bosses, no nagging wife -
ALEX: About your wife, Constantine, would you take her back?
CONSTANTINE: (SHAKES HIS HEAD) Just to be able to roll around in the mud - like kids again, climbing mountains, sleeping under the stars, digging foxholes -
ALEX: There isn't a fox in miles!
CONSTANTINE: And planting olive trees in them when we leave.
GREGOR: I think he's lost his marbles!
ALEX: What about the danger? The shooting? The killing?
CONSTANTINE: Who ever said anything about shooting anyone? I'm a dove, a vegetarian, a conservationist, an animal rights activist -
GREGOR: Ye gads! He's talking about a guerrilla peace army!
CONSTANTINE: Why not? Think of it - in the past, all the guerrillas have ever done is ride in all of a sudden and shoot up the town. Then they burn half of it, liberate it, change the names of all the streets, and ride away. Next, the soldiers come back, shoot it up again, change the names back, burn up the other half, and go away. Now, with a guerrilla peace army, we could stage commando raids on the fields, till and plant them by night - so when the soldiers come to retaliate - at least only half the town will be burned.
GREGOR: And all the streets will have the same names so we won't have to change the stationery. He may have something there.
ALEX: You're both insane.
CONSTANTINE: And someday maybe, we'll all have enough to eat. Someday, maybe, I'll never again have to cook one of those tiny, helpless - little - squirrels.
THESPINA: I wish someone would notice I'm here.
GREGOR: Thespina! What are you doing here?
ALEX: She's the one who gave us away.
CONSTANTINE: She was out sleepwalking last night.
GREGOR: What! And they took advantage of it. The bastards - the rotten -
THESPINA: Oh, you're just mad because I did land at your house.
GREGOR: I'll make them pay for this! Thespina! What are you wearing!

THESPINA: (WITH HER BACK TOWARD THE AUDIENCE, CHILDISHLY UNDO HER SHEET FOR HIM) Nothing. (GREGOR PASSES OUT. ALEX AND CONSTANTINE CATCH HIM)

ALEX: It's happened again.
CONSTANTINE: It never fails.
THESPINA: (COVERING HERSELF UP AGAIN) Why don't the two of you ever pass out?
CONSTANTINE: We're different.
GREGOR: (COMING TO) Where am I?
ALEX: In trouble.
GREGOR: That's right, I forgot - the Colonel -
THESPINA: Why are you always annoying him, Gregor. Shame on you.
CONSTANTINE: Put this coat on, I'll take you home.
THESPINA: No.
CONSTANTINE: If the townspeople see you here, they'll cut your hair again.
THESPINA: Hah! I'm not going home. I'm tired of being a good girl.
GREGOR: You want us to get married, don't you?
ALEX: The priest won't marry you till your hair grows back.
THESPINA: Hah! Who needs him? We'll elope to Israel.
GREGOR: You know we can't do that, Thespina.
ALEX: You know your father's the Mayor. If you had a Jewish wedding he'd lose the next election!
THESPINA: Maybe that would be a good thing!
GREGOR: Thespina!
THESPINA: What kind of a newspaperman are you, anyway? You only print what Kappa tells you. How am I supposed to respect you, look up to you. You're no better than Pappa!
GREGOR: Yes I am! I'm fighting the Colonel - the new taxes -
THESPINA: Pooh! You're only doing it to make Pappa fork over my dowry.
GREGOR: I am not!
THESPINA: You are too! Pappa said so.
CONSTANTINE: Gregory would marry you - even without a dowry.
THESPINA: Don't but in! You think I'm going to let Pappa cheat him out of it? I'm a respectable girl.
ALEX: Thespina, the taxes are excessively high -
THESPINA: Not as high as Pappa would raise them - if he were the one collecting.
CONSTANTINE: All this is getting us nowhere.
ALEX: What are we going to do about the Colonel?
CONSTANTINE: Take to the hills, naturally.
ALEX: That's preposterous. Utterly preposterous.
GREGOR: Alex is right, Constantine.
ALEX: It's the rainy season.
GREGOR: Maybe if we apologize to the Colonel -

CONSTANTINE: Here they come again. (THE SOUND OF THE TWO SOLDIERS SINGING OFF STAGE CAN BE HEARD)

ALEX: We'd better hide.
CONSTANTINE: Two of you can fit in the closet.
ALEX: Oh no, not in there again!
CONSTANTINE: You and Thespina in the kitchen then. Come on, Gregor, I don't want to hang around here either - not when they're drunk. (GOES WITH GREGOR INTO THE CLOSET)

(THE STAGE IS CLEARED. A MOMENT LATER THE TWO DRUNKEN SOLDIERS ENTER THROUGH THE AUDIENCE DOOR, SINGING)

Oh, Akim loved the ladies,
The young and kpretty ladies.

They gave their hearts, they gave their souls,
And Akim gave them - babies! (LAUGH)

COLONEL: Dear Corporal.
LIEUTENANT: Ah, Sarge.
COLONEL: It's so good to be alive!
LIEUTENANT: (HICCUPPING) No guerrillas.
COLONEL: Not even one little guerrilla.
LIEUTENANT: No guerrillas anywhere. Do you see any?
COLONEL: (LOOKING UNDER CHAIRS) Nope.
LIEUTENANT: Maybe they're in the files.
COLONEL: (HOLDING UP HIS BOTTLE) I think I trapped a few in here. (GULPS) Whoops, gone!
LIEUTENANT: I wonder if there's any in the bedroom.
COLONEL: Go and look.
LIEUTENANT: Nope. Thespina - oh Thespina -
COLONEL: Have you checked the closet?

LIEUTENANT: Aw, what guerrillas would be hiding in the closet? Moths! Ha ha - (HE OPENS THE CLOSET) And if there are, I will shoot them, ping! (GREGOR RUSHES OUT, PANIC STRICKEN. THE LIEUTENANT IS SLOW ON THE UPTAKE. CONSTANTINE COMES UP BEHIND HIM AND GIVES HIM A RABBIT PUNCH. THE LIEUTENANT FALLS. BEFORE THE COLONEL HAS A CHANCE TO GRASP WHAT HAS HAPPENED, CONSTANTINE RUSHES AT HIM AND THEY STRUG- GLE BEHIND THE DESK. A HAND COMES UP AND DOWN AGAIN AND THERE IS A FINAL THUD. THE LIEUTENANT BEGINS TO COME TO. CONSTANTINE LEAPS UP AND HITS HIM ON THE HEAD AGAIN. GREGOR STARES AT THE WHOLE THING, FROZEN.)

GREGOR: They're both out cold.
ALEX: (ENTERING FROM THE KITCHEN WITH THESPINA BEHIND HIM.) What happened?
THESPINA: (SKEPTICALLY) You and Constantine did that?
GREGOR: Just Constantine.
CONSTANTINE: I lost my head.
ALEX: What are we going to do?
CONSTANTINE: (ASSUMING LEADERSHIP) Take them in the bedroom and tie them up.
ALEX: Aiyaiyaiyai! How are we ever going to buy ourselves out of this one!

(BLACKOUT)


INTERMISSION DURING INTERMISSION, THE DEACONS GO ABOUT MAKING CERTAIN THEIR RESPEC- TIVE HAWK OR DOVE RECRUITS ALL ARE WEARING THEIR IDENTIFICATION TAGS AND HAVE HYMNALS AND ARE READY TO TAKE THEIR PLACE AMONG THE ACTORS. THE FOLK SINGERS SHOULD BE PLAYING THEIR GUITARS, COMPETING FOR NEW RECRUITS TO THEIR OWN HAWK OR DOVE INDUCTION BOOTHS.
ACT II
SCENE: THE SAME, LATER THAT DAY. GREGOR SITS ON THE DESK TRYING TO THINK OF SOMETHING. THESPINA IS PERCHED ON SOMETHING. ALEX AND CONSTANTINE ARE FEEDING THE COLONEL WHO IS TIED IN A CHAIR. THE LIEUTENANT IS TIED IN ANOTHER CHAIR, GAGGED.

THESPINA: I know! We can shoot them, burn half the town, and say the guerrillas were here! (THEY ALL GIVE HER DIRTY LOOKS. SHE SHRUGS.) War is war.
COLONEL: May I please have another mushroom? (CONSTANTINE OBLIGES; HE EATS IT WITH GREAT RELISH, THEN ALEX GAGS HIM. THEY TURN TO FEED THE LIEUTENANT)
LIEUTENANT: You won't get away with this! (CONSTANTINE FORCES YOGURT INTO HIS MOUTH.)
GREGOR: I've got it! Alex, you're going to be the new Colonel. And you, Constantine, the new Lieutenant.
THESPINA: Who promoted them?
GREGOR: I have. Listen - you both speak fluent Turkish - what's to prevent you from impersonating them when the patrol comes tomorrow?
ALEX: My knees will prevent me - that's what'll prevent me.
CONSTANTINE: It's not a bad idea.
ALEX: I'd rather take to the hills.
THESPINA: We could all run across the border into Albania. Gregor could run up some passports on his little Cannon copier.
CONSTANTINE: Albania's in worse shape than we are. But I think Gregor's suggestion is the only way out, for the whole town.
THESPINA: Maybe he's right, Alex.
LIEUTENANT: (BETWEEN GAGS OF DANNON YOGURT) You'll pay for this!
THESPINA: Maybe you should just shoot the Lieutenant and let the Colonel go.
GREGOR: Thespina's given me another idea. I could run up phony ID's for the two of you saying you're the new Sargent and Corporal assigned to this post.
THESPINA: Why bother? All men in uniform look alike.
ALEX: Photocopied papers. Now that idea sounds halfway plausible. Yes, we may be able to get away with it after all. It might even have profitable possibilities - with the town's cooperation - I mean, the Mayor's cooperation.
GREGOR: Then that's what we'll do. Quick, we don't have any time to lose. Get their papers from their wallets. I'll forge a new set and by morning, we'll have a new Sargent and a new Corporal. (LAUGHS, PIROUETTES TOWARD THE DOOR TO AUDIENCE) Get your uniforms on. I'll send the Mayor over on my way to the paper. (EXITS)
THESPINA: How will he be able to forge them so quickly?
ALEX: You know that new pressman they hired last month at the paper?
CONSTANTINE: You mean that American immigrant?
ALEX: That was no American immigrant - he was deported by the FBI. (GOES TO THE CLOSET) Come on, let's put these uniforms on.
CONSTANTINE: You'd better get out of here before your Pappa gets here.
THESPINA: Pooh! (SHE SITS STUBBORNLY. CONSTANTINE FOLLOWS ALEX TO THE CLOSET AND PUTS ON THE LIEUTENANT'S JACKET. ALEX IS INSPECTING HIMSELF AS THE NEW COLONEL.) One thing I've never been able to under- stand - if they're only a Sargent and a Corporal, why does everyone call them a Colonel and a Lieutenant?
ALEX: It's a matter of pride.
THESPINA: You mean, they promoted themselves when they got into power?
ALEX: Oh no, the town promoted them willingly.
THESPINA: Why ever for?
ALEX: Imagine the insult to the town - only assigning us a Sargent and a Corporal.
CONSTANTINE: (INSPECTING HIMSELF) Yes, that was nasty of them, wasn't it.
ALEX: How do I look, Constantine?
CONSTANTINE: (UNENTHUSIASTIC) Just like the Colonel. ALEX: You don't look like the Lieutenant yet. Where's that trun- cheon? Maybe it'll give you more assurance. (FORCES HIM TO HOLD THE LIEUTENANT'S STICK) Now, carry it with a little bit more swagger.
THESPINA: Are you going to practice on the Lieutenant?
CONSTANTINE: That would be out of character.
ALEX: How so?
CONSTANTINE: He believes in talking big and carrying a soft stick.
ALEX: Well, at least you could try to look hard. ... I've always wanted to wear this jacket.
CONSTANTINE: Whatever for? It's a dull gray. It doesn't even become you.
ALEX: But it does become me, amigo. This dull gray is a sign of power. I'm no longer just a baker when I wear it. I'm a military Sargent. Do you know what that means? I can beat people up and they won't fight back. I can collect taxes. I can -
CONSTANTINE: You can go bananas. Do you think it's going to make you any happier to wear it? Why don't you ask the Colonel if he really liked being a Sargent. (REMOVES THE COLONEL'S GAG) Go on, ask him.
ALEX: What's wrong with you!
CONSTANTINE: I don't know. It's the Thanatos, I think. Ever since I painted it on that wall -
COLONEL: Constantine, listen to me. You're the only sensible one around here. This little joke your friends have played has run away with itself. Now I know you're all sorry for what you did. Why don't we just forget the whole thing - you free us, and we go on as if all this had never happened. We were a little drunk - we only imagined you revolted. Is it a bargain? What do you say?
ALEX: Do you think he means it?
CONSTANTINE: Yes, I think he means it, but it's too late to believe him. (TO THE COLONEL) I wish we could do like we did when we were boys - we could play war, win, surrender, make up and be friends again. But we had only toy guns then. Now the guns are real on both sides and neither side can afford to risk an unconditional surrender.
ALEX: But if he means it -
CONSTANTINE: If he means it -
COLONEL: You're right. I can't mean it. I'd have to shoot the three of you the minute you cut me loose. War is war. You might as well do away with us as you'd planned. But first - give it a lot of thought - because if the patrol sees through your masquerade tomorrow - the whole town will be massacred.
CONSTANTINE: I have thought about it. All of which means our only other two alternatives are to run to the hills and be guerrillas as I wanted to do, or free you and let ourselves be executed. Yes, I've thought about it. That's why I think I'd better take this jacket off right now and be on my way.
ALEX: What are you doing! You can't desert us now. We're all depending on you, Constantine. I can't fool the patrol all alone.
CONSTANTINE: You and Gregor are free to come with me.
ALEX: My rheumatism, Constantine. Can't you understand? I've been used to civilization all my life. I can't just leave town and camp out under the sky. I've got your wife to support -
CONSTANTINE: (STRONGLY) Then kill them, burn half the town, and say the guerrillas were here.
THESPINA: Hey, that was my idea!
ALEX: Oh sure, and have the town hang us after the soldiers leave.
CONSTANTINE: We all die sometime.
ALEX: I don't intend to. All right, go ahead, desert us. We'll pull this off without you. And when you're out there in that mud, just remember that your friend Alex is relaxing by a fireplace, warm and cozy, just like the Colonel used to. And what's more, I'll be just like the Colonel - collecting the same taxes and spending them at the corner bar.
CONSTANTINE: And you'll be just as lonely and just as bored and because you're bored you'll get yourself in just as much trouble as he did and the town will hate you and someday another Thanatos will be drawn on that wall.
THESPINA: Bravo!
COLONEL: Yes, bravo, Constantine. But without you it'll never work. Alex hasn't got your guts. when the patrol comes tomorrow, he'll fall apart. You can't just run away, you see. You either have to stay and lead the rebellion, or you have to free me and take your chances on being shot.
CONSTANTINE: I wouldn't be afraid for myself - but there's Gregor and Alex.
COLONEL: Why do you care about a couple of blockheads? It's either them or the town.
ALEX: Constantine, don't listen to him. Remember, we can't bribe him anymore.
CONSTANTINE: I see I'm going to be stuck with having to make some hard choices.
COLONEL: Spoken like a true leader, Constantine.
(GREGOR AND THE MAYOR ENTER, INTERRUPTING THEM)
GREGOR: It's all set. The papers will be ready by tonight!
MAYOR: What a brilliant idea, boys. The opposition won't stand a chance next election day.
CONSTANTINE: Nobody may still be around to vote by next election day.
MAYOR: What?
ALEX: Don't listen to him. He's having delusions of grandeur.
GREGOR: Constantine, this is no time to become a prima donna.
THESPINA: Hello, Pappa.
MAYOR: Thespina! What are you doing here?
THESPINA: Having a party - all by myself.
MAYOR: What are you wearing?
THESPINA: (BEGINS TO UNDO HER SHEET) Nothing -
CONSTANTINE: (FIRMLY) Not again, Thespina.
THESPINA: Oh, all right, I'll behave. But what else am I supposed to do all day? Nobody lets me do anything except be a girl. (SITS)

(DURING THE NEXT SPEECHES, THE COLONEL SUCCEEDS IN FREEING HIMSELF. UNNOTICED, HE GETS UP AND WALKS IN THEIR MIDST.)

ALEX: Forget her and let's get down to business. What are we supposed to say to the patrol when they get here tomorrow?
GREGOR: They'll want some kind of a report, I think. Constantine must know.
CONSTANTINE: (UNENTHUSIASTIC) Yes, I know. With my help we could pull it off successfully tomorrow. But it's more than tomorrow I'm worried about. What about the next time and the next time? It's more than just our own skins we're risking. It's the whole town. One wrong move, and everybody dies. That's why I'm opting for the hills. That way, we'll be the only ones the patrol goes after.

COLONEL: Listen to him, boys, he's the only one talking sense.
ALEX: (WHIRLING) Grab him!
COLONEL: (LIKE A REAL LEATHERNECK) Yes, boys, come on, grab me. Which of you has enough guts to do it? Hahaha! You see, I really have faced guerrillas. They were fierce - not like you honkies. Oh yes, Constantine could grab me, if he wanted to - but he doesn't really want to. He's too smart. He knows you're all no better than I am - just a bunch of small-time chislers. And he also knows that without me the whole town would be lost. Now boys, think fast, and choose! What's it going to be? Are you going to go on with this half-assed rebellion - or is one of you going to have sense enough to go over there and free the Corporal - so we can forget this crazy joke and go right back to the point where this whole thing started?

(THEY LOOK AT EACH OTHER. THE MAYOR AND ALEX NOD. GREGOR SIGHS, GOES OVER AND FREES THE LIEUTENANT WHO MAKES A QUICK DASH FOR A MACHINE GUN. THE COLONEL STEPS BACK AND THE OTHERS ARE ALL COVERED.)

COLONEL: All right, all of you, get over by that wall and turn around. (THEY LINE UP FACING THE WALL WITH THE THANATOS.) Not you, Thespina, I wouldn't dream of shooting you. Are you ready, Lieutenant?

(THE LIEUTENANT NODS GRIMLY. EVERYONE TENSES. JUST THEN, THERE IS SHOOTING AND NOISE OUTSIDE, LIKE THE CAVALRY ARRIVING. A SHOT GOES THROUGH THE AUDIENCE WINDOW AND THESPINA SCREAMS.)

ALL: What's going on? What happened?
THESPINA: I think - I think I just may have lost my virginity. (LOOKS AT HER SEAT) Nope. Missed again!
ALEX: It can't be the soldiers -
GREGOR: They wouldn't be shooting.
CONSTANTINE: (JOYFULLY) It must be the guerrillas!

(BEFORE ANYONE HAS A CHANCE TO RECOVER, ALCIBIADES ENTERS FROM THE AUDIENCE, DISARMING THE COLONEL AND LIEUTENANT.)

ALCIBIADES: Drop your guns, turkeys, and get your hands up, all of you. Now all turn around and face me - I never shoot men in the back unless they're armed.

ALEX: Wait, we're patriots.
GREGOR: There's the enemy.
COLONEL: (CUNNINGLY) No, those are the soldiers - can't you see one of them's in uniform? We're the resistance.
THESPINA: Don't believe any of them!
ALCIBIADES: (DISTRACTED) And who is this - this lovely creature? Miss -
COLONEL: (WITH THE LIEUTENANT, SLOWLY BACKING AWAY FROM CENTER STAGE) Mata Hari.
CONSTANTINE: Allow me to present - the Mayor's daughter.
GREGOR: (MEEKLY) My fiancee.
ALCIBIADES: That can be corrected.
MAYOR: Thespina, come back here!
THESPINA: Pooh! Don't pay any attention to any of them. My, you're so tall and brave - a real man. I always thought guerrillas were - you know, hairy apes. It's such a surprise to find someone like you being their leader.
ALCIBIADES: Er, please step back, Miss - you're in my line of fire.
(THE COLONEL AND LIEUTENANT MAKE A MAD DASH FOR THE KITCHEN. ALCIB- IADES SHOOTS IN THE AIR.) Come on back, you two. (THEY RETURN, FOILED, AND GET OVER WITH THE OTHERS.) Now, one at a time, let's see your papers.
THESPINA: Oh, that's another waste of time - nobody has any real papers. They're being run off at the printing office. Why don't you simply introduce yourself and join the party?
ALCIBIADES: Er - who are you, Miss?
THESPINA: Thespina. And you? You must be famous, Mr. - er - General -
ALCIBIADES: Er - Alcibiades.
CONSTANTINE: Alcibiades!
ALCIBIADES: Er - yes, Alcibiades.
CONSTANTINE: The Alcibiades?
ALCIBIADES: Er - yes.
CONSTANTINE: (OPEN-ARMED) Pappa! You raped my mother thirty years ago!
ALCIBIADES: (OPEN-ARMED) I did? Oh, Sonny-boy! (THEY EMBRACE) What have you been doing all these years? My, you've grown into a real man!
MAYOR: Ahem! General. As the Mayor of this town, I demand to know the meaning of this outrage. Why are you burning the village?
ALCIBIADES: (OCCUPIED WITH CONSTANTINE) In a minute.
THESPINA: Oh, Pappa, leave them alone - they're having a family reunion.
MAYOR: I repeat, what is the meaning of this outrage.
ALCIBIADES: In a minute!
CONSTANTINE: I want to join the guerrillas, Pappa.
ALCIBIADES: Oh that's my sonny-boy.
GUERRILLA: (APPEARING AT THE DOOR AT ATTENTION) Sir, the men have looted the treasury and burned the south half of town, sir. Now they're raping all the virgins, sir.
ALCIBIADES: Good! How soon will they be through?
GUERRILLA: When they can find a virgin, sir.
THESPINA: Hey, I should be out there!
MAYOR: Thespina, come back here!
THESPINA: (TO ALCIBIADES) Will you let me join the guerrillas too?
GREGOR: You'd never pass their physical, Thespina.
THESPINA: Don't be silly - there are plenty of vacancies for camp followers.
MAYOR: Thespina, come back here. It's not safe for a respectable girl out there.
THESPINA: I know.
ALCIBIADES: (CATCHING HER AS SHE GOES PAST HIM) Er - Miss - why don't you stay here and I'll interview you later myself.
THESPINA: Oh General, that would be gallant!
MAYOR: General, I insist. Why are you raiding the town!
ALCIBIADES: In a minute!
THESPINA: Oh answer him and get it over with. He'll never let us alone until you do.
ALCIBIADES: Very well. Why are we raiding the town? Because we're guerrillas, of course. Besides, you sent for us.
MAYOR, ALEX, GREGOR: We sent for you?
ALCIBIADES: Yes. (LOOKS AROUND AND FINDS THE THANATOS) There it is. A very authentic replica.
MAYOR, ALEX, GREGOR: We don't understand.
ALCIBIADES: It's the guerrilla emblem.
MAYOR, ALEX, GREGOR: Yes, but its a forgery. We drew it.
CONSTANTINE: No, I drew it.
ALCIBIADES: You drew it? Oh Sonny-boy, no wonder it's so authentic. (EMBRACES HIM AGAIN)
MAYOR, ALEX, GREGOR: We still don't understand.
ALCIBIADES: We wouldn't let you boys cry wolf, you know. It would have damaged our reputation. We always come when someone draws the Thanatos.
MAYOR: (TO CONSTANTINE, ALEX & GREGOR) I'll see that you three hang!
ALCIBIADES: You can't hang him, he's my sonny. And those two are your pals? Well, you can't hang them either. You boys are all coming along as guerrillas, right? (ALL NOD SHEEPISHLY) Good. Now then, about that lovely daughter of yours -

(A NEW RACKET AND VOLLEY OF FIRE INTERRUPTS THEM. THE GUERRILLA SOLDIER STUMBLES IN, BATTLE-TORN)

GUERRILLA: Sir, we're being ambushed. I think it's the Turks.
ALL: The Turks!
ALEX: They weren't due until tomorrow!
ALCIBIADES: That's why we came today!
GUERRILLA: What shall we do, sir?
ALCIBIADES: I don't know! This never happened before. Tell all the boys to surrender - pass the word along - a strategic surrender!
GUERRILLA: (TRIES TO EXIT BUT BACKS BACK IN) It's too late, sir. We've already surrendered!

(HE GIVES WAY TO A TROOP OF VERY YOUNG BOYS HEADED BY A SNIPPY MILI- TARY ACADEMY OR SWAT TEAM TYPE, PRECISE, PRIM, AND MEAN. THEY QUICKLY DISARM EVERYONE AND TAKE POSSESSION OF THE MACHINE GUNS.)

ROVAS: (LIKE A CYBORG) Who is your leader?
ALCIBIADES: (MEEKLY) I'm the Guerrilla Chief. That's the Mayor.
CONSTANTINE: (STRONGLY) I head the resistance. And that's the occupation officer.

ROVAS: (TO ALL, EFFICIENTLY) Captain Rovas of the International Provisional Revolutionary Peacekeeping Task Force, at your service.

ALL: International? Provisional? Revolutionary? Peacekeeping? Task Force?

ROVAS: For the liberation of the Sovereign State.
GREGOR: Liberation?
CONSTANTINE: (CHEERS) He means the revolution's started.
(EVERYONE CHEERS, THEN RECONSIDERS IT)

MAYOR: But - but - you're all foreigners!
ROVAS: Of course. Do you think we'd trust leaving a revolution to you natives? I have here an official proclamation of alliance and protem occupation. (TAKES OUT A TELEGRAM AND READS IT) "Patriots and fellow liberators, Greetings: For years now the brave people of your village have fought alone and in vain to free themselves from the yoke of foreign oppression. For years they have asked, hoped, prayed for a revolution. Well, boys, you asked for it - and now you're going to get it!

ALEX: But - who's giving it to us?
ROVAS: We all are - the Germans, the English, the French, the Rus- sians, the Italians -
ALCIBIADES: But the Turks liberated us from the Italians.
ROVAS: The Japanese, the Mexicans, the Dutch, and oh yes, the Ameri- cans. But lucky for us, we don't think they'll send the Marines.
ALCIBIADES: That was considerate of them.
GREGOR: You mean, everyone is sending troops?
ALEX: This is no liberation - it's a new occupation!
CONSTANTINE: Does this mean we'll finally have a democracy?
ROVAS: A democracy? What gave you that idea!
CONSTANTINE: It's kind of traditional with us, sir.
ROVAS: Nonsense! Too risky for foreign policy. Too easily con- trolled by outside elements.
CONSTANTINE: But the Americans are doing all right, sir.
ROVAS: Huh! A mere peasant revolt - won't last another decade.
MAYOR: What kind of a government are we going to get, then?
ROVAS: You'll be lucky if you get a monarchy.
ALL: (DISGUSTEDLY) A monarchy!
ALEX: But - where will you find a king?
ROVAS: We've got a long list of unemployed ones now being inter- viewed for the job. Cheer up, guys, things could get worse.
SOLDIER: (A YOUNG BOY OR GIRL) Sir, everything is in order out- side.
ROVAS: Have the villagers all been rounded up?
SOLDIER: They're all out there in front, sir. (INDICATING TO THE AUDIENCE)

ROVAS: Good, prepare to burn the rest of the town.
ALCIBIADES: Aren't you going to rape the women first?
ROVAS: (SCORNFULLY) Peasant! Of course not. This is a gentle- man's army.
ALCIBIADES: Aw. They're going to be so disappointed.

ROVAS: (TURNS TO ADDRESS BOTH CAST AND AUDIENCE AND MOVES AMONG AUDIENCE WITH HIS SWAGGER STICK) Now, I'm here to see that everything runs smoothly and with a minimum of resistance. Every man, woman, and child able to carry a weapon is hereby drafted. That means you old guys, too. (JABS A FEW IN THE STOMACH)K We'll need you for the front lines.

ALL: (OBJECTIONS BOTH FROM CAST AND THE DOVE GROUP IN THE AUDIENCE)
Now wait a minute.
You can't do this to us.
Who do you think you are.
Why are you butting into our business.
That little squirt.
Who is he to speak to us like that.
Get out of our town.
Who says you can order us around. .... etc.

(ROVAS GIVES A SIGNAL AND TWO SOLDIERS FIRE A VOLLEY OF MACHINE GUN BULLETS INTO THE AIR. SPITBALLS OR CONFETTI DROPS ON THE AUDIENCE.)

ROVAS: (FIRMLY) I want no more interruptions. (THERE IS A SILENCE) Now then, there are to be the usual number of expedient executions. I want a list of the town's undesirable elements.

CONSTANTINE: (AFTER A PAUSE, SPEAKS OUT BRAVELY) There are no undesirable elements, sir.
ROVAS: (SKEPTICALLY AND DANGEROUSLY) No undesirable elements?
CONSTANTINE: No, sir.
ROVAS: (BAITING HIM) None whatever?
CONSTANTINE: None, sir.
GREGOR: (TIMIDLY) This is the cleanest town in the provinces.
MAYOR: Even the vice committee finally retired.
ROVAS: (SADISTICALLY) Odd, that's what the last village said. After a small number of interrogations, however, an astronomical number of undesirables were uncovered. Come come, speak up. You must have some people you all want to get rid of.
ALEX: (POINTING TO THE TERRIFIED COLONEL AND LIEUTENANT) Those two over there.
ROVAS: Who are they?
MAYOR: The Turkish occupation forces.
ROVAS: Only two? Where are the others?
CONSTANTINE: The rest deserted months ago, sir.
ROVAS: Hm. All right, take those two into custody. (SOLDIERS DO SO)
THESPINA: Are you going to execute them?
ROVAS: Of course not! They're prisoners of war. Now then, back to the undesirable element. Are there any civilians in the village who can be shot as collaborators, or spies?
CONSTANTINE: (AFTER A TENSE PAUSE) Nossir, there are no spies or collaborators in this town, sir.
ALEX: (QUICKLY) That's right. This town is All-Greek, loyal, patriotic, pure, wholesome, All-Greek.
ROVAS: Pure Greek?
GREGOR: For centuries.
ROVAS: Most unusual. Well, what about undesirable individuals, then. Are there any witches or perverts?
THESPINA: (IMPISHLY AND INNOCENTLY) I was wondering when you'd get around to me!
ROVAS: You're a pervert?
THESPINA: No, a witch. A woodland nymph, to be exact. By family tradition.
MAYOR: Thespina!
THESPINA: Oh shush, Pappa. (SHE STEPS FORWARD INNOCENTLY) Well? Aren't you going to execute me?
ROVAS: (BLASE AND ONLY MILDLY ATTRACTED) Er - what proof can you offer?
THESPINA: Watch! (SHE UNDOES HER SHEET, HER BACK TO THE AUDIENCE. EVERY FULL-GROWN MAN ON THE STAGE EXCEPT ALEX, THE MAYOR, AND CONSTAN- TINE, FAINTS. BUT ROVAS AND HIS SOLDIERS ARE NOT AFFECTED.) Hey, you're still standing! No fair! You're supposed to fall down!
ROVAS: (ONLY PARTIALLY AFFECTED, PERCEIVES HER AS USEFUL IN COMBAT, A WEAPON TO BE ADAPTED TO HIS ENDS) Who says I'm still standing. You pack quite a wallop, Miss - Miss -
THESPINA: Thespina, the Mayor's daughter. But I don't see why I should be nice to you - when you're thinking of executing me.
ROVAS: (EFFICIENTLY) What gave you that idea.
THESPINA: You just said so a moment ago.
ROVAS: Why, I wouldn't think of it. You're a - a secret weapon.
THESPINA: Ooh, that's groovy. But how come you didn't faint? Every real man faints. Are you sure you're a man?
ROVAS: (TOUCHILY) Of course I'm a man. I'm of a superior race, that's all.
THESPINA: Oh? What race are you?
ROVAS: I'm pure guerrilla.
CONSTANTINE: Pure guerrilla?
THESPINA: How did that happen?
ROVAS: Father slid into the wrong foxhole.
THESPINA: Hm. Was your father named Alcibiades?
ROVAS: How did you know?
ALCIBIADES: (OVERJOYED AND OPEN-ARMED) Sonny-boy!
CONSTANTINE: (LIKEWISE) My kid brother?
ROVAS: (TO THESPINA, INCREDULOUSLY) Is that Pappa?
THESPINA: Yes.
ROVAS: (HARDENS, REJECTS ALCIBIADES' ATTEMPTED EMBRACE) You cad! So you're the one who knocked up my Mom. Get over there. You'll be the first at the firing squad.
THESPINA: But he's your own father!
ROVAS: I have an Oedipus complex.
ALEX: (ASIDE TO CONSTANTINE) You'd better shut up about being his brother - he may also have sibling rivalry!

(ROVAS SIGNALS FOR ANOTHER VOLLEY OF MACHINE GUN FIRE. MORE SPIT BALLS OR CONFETTI DROPS ON THE AUDIENCE.)

ROVAS: Quiet, please. All right, now, is there anyone else we can get rid of? Who's the head of the local political machine?
THESPINA: That's Pappa.
ROVAS: Er - never mind. What about the town tax assessor?
COLONEL: (POINTING TO ALEX) There he is - right there!
ALEX: That's a lie!
ROVAS: Silence!
ALEX: Why should you take his word for it? He's the enemy!
LIEUTENANT: (POINTING TO GREGOR) And that's the town gossip over there - him and his yellow-sheet newspaper.
ROVAS: A journalist? Marvelous! Now we're getting somewhere. All right, both of you, step over there.
THESPINA: Oh wait a minute - you can't execute any of those men!
ROVAS: Why not?
THESPINA: They're all leaders of the resistance - they're national heroes.
ROVAS: Is that true? (EVERYONE QUICKLY NODS) I suppose you're right. We can't waste our national heroes. We need them for the front lines. Well then, isn't there anyone in this village we can execute? Not even one little Jew?

MAYOR: If you shoot any Jews - wouldn't the Americans object?
ROVAS: (CUNNINGLY) Who says we'll shoot them - as Jews? (PAUSE) Come come, I'm waiting. Find someone. Anyone. Or would you rather I start picking someone at random?

MAYOR: (RELUCTANTLY) There's thief in the town jail.
ROVAS: Oh? The keys, please. (MAYOR HANDS HIM THE KEYS AND HE TOSSES THEM TO A SOLDIER) Free him immediately and put him in uniform. (BACK TO THE QUESTION AT HAND) Now then, who shall it be?
ALEX: Perhaps - the town priest would be willing. (BOTH HAWK AND DOVE DEACONS DUCK BEHIND AUDIENCE)
ROVAS: No good, we have an - arrangement - with the church.
ALEX: Well, then there's -
CONSTANTINE: (STRONGLY, AND WITH A GROWING SENSE OF REALITY) There is no one, sir.
ROVAS: (DANGEROUSLY) No one? Come on, what about some odd-ball minority. There was a rumor that you had one Irishman living in town. (ALL IRISH AND OTHER BLONDE PERSONS IN THE AUDIENCE DUCK BEHIND THE OTHERS)
CONSTANTINE: (FIRMLY) An Irishman, sir? There's not a single Irish person here.
ROVAS: (SEARCHING THE AUDIENCE) I distinctly see a head of blonde hair over there - might that not be Irish hair?
CONSTANTINE: (FIRMLY) Nossir - you're mistaken, sir. That hair is not blonde, sir.
ROVAS: (FIERCELY) Do you think I'm colorblind?
CONSTANTINE: (FIRMLY) Nossir. What you see is not blonde hair, sir. His hair is dyed blond, sir.
ROVAS: Really? Then he's the village pervert!
CONSTANTINE: (FIRMLY) Nossir. He's playing the part of Apollo in the Spring festival.

ROVAS: (CAT AND MOUSE) The part of Apollo? In a pagan festival? How quaint! Ah, you Greeks. Such a clannish lot - untouched by the centuries, full of the pure blood of your ancestors. Of course I see it now, of course he's Greek - pure Greek - look at the chin, the classic nose - which reminds me, before we continue, are there any more art treasures left in town?

CONSTANTINE: Some old ruins, but -
ROVAS: Good. (TO SOLDIERS) Have them taken away at once.
CONSTANTINE: (ANGRILY) Why, sir?
ROVAS: For safe-keeping.
MAYOR: But - they're safe where they are.
ROVAS: Do you think we can trust them to you natives? In a country that's always getting into wars and revolutions?

ALCIBIADES: (ASIDE TO ALEX AND GREGOR) The British had a plan to move the entire Parthenon for safe-keeping - until Lord Elgin lost his marbles.

(ROVAS AGAIN SIGNALS A VOLLEY OF MACHINE GUN FIRE. SPIT BALLS AND CONFETTI DROP ON THE AUDIENCE AGAIN.)

ROVAS: Silence! Now then, we can't leave without executing some- one. Who is it going to be?
CONSTANTINE: (STRONGLY) Sir, I've kept quiet for a long time, but I suppose it's time to volunteer -
ROVAS: (WHIRLING ANXIOUSLY) Yourself?
CONSTANTINE: No, sir. The Colonel's goat, sir. It's our last goat. We're all very fond of him.

ROVAS: (CONTEMPTUOUSLY) A goat.

CONSTANTINE: It's in the classical tradition, sir. And it's the only life in town that can be usefully sacrificed, "Sir".

ROVAS: A goat! (LOOKS AT EVERYONE DISGUSTEDLY, THEN WITH A GESTURE OF GRAND GENEROSITY) Very well, take the animal to the firing squad. (A SOLDIER GOES OUT TOWARD THE KITCHEN.)

CONSTANTINE: (WITH WRATH) We're all going to miss Socrates.
ROVAS: Socrates?
CONSTANTINE: The goat, sir.
ROVAS: Well, er - have the priest re-christen him before he's shot - and use only one bullet - no sense getting lead poisoning in the stew. Well then, (TO EVERYONE INCLUDING THE AUDIENCE) I suppose we're all ready to march. We're ambushing the Turkish patrol at dawn.

CONSTANTINE: (WAKING UP TO THE REALITY) Ambushing the Turks, sir?
ROVAS: Yes.
CONSTANTINE: With real guns, sir?
ROVAS: Of course, man, what did you expect?
CONSTANTINE: I don't know. Somehow, up to a little while ago, it seemed absurd that you were really serious, but now -
ROVAS: Is he the town idiot, or what?
CONSTANTINE: I may be stupid, sir - but if you're really serious - then I'm really not ready to march with you, "Sir".
ALEX: Constantine, what are you saying.
GREGOR: Shut up, Constantine.
CONSTANTINE: (IGNORING THEM) I was ready to join the guerrillas - but not a foreign army.
ALCIBIADES: (TOUCHED) Sonny-boy!
CONSTANTINE: You can't seriously expect me to fight in your war -
MAYOR: The man's insane. Don't listen to him!
CONSTANTINE: (STRONGLY) I know what I'm saying.
ALEX: (FEEBLY) Don't be ridiculous.
ALCIBIADES: (WISELY) Shut up, sonny, before you get yourself shot.
GREGOR: This is no joke, Constantine.

CONSTANTINE: (PUTTING HIS FOOT DOWN) No! I've kept quiet for years - because I wanted to stay alive. For years I've put up with all your silly games. But now, I haven't any choice. I've got to speak up. Because you've already taken my life from me, and left me with only two alternatives - either to die in someone else's stupid war - or be shot for refusing to fight.

ROVAS: You are being asked to fight to free your own country, your native soil.

CONSTANTINE: (FIERCELY) This soil belongs to no one! It's like an old whore - it takes everyone who pays - it takes everyone! It doesn't even have a proper name - it needs no name to go on being soil - soil for any man to grind and pound until it yields what little it will yield. Why do you want it? Why did the Turks want it? Or the Italians before them? Of what use was it to any of them? Of what use will it be to you?

ROVAS: (WITH PROTOCOL) We must have it - because other nations want it.

CONSTANTINE: And other nations want it because you must have it. When will it end? Which side will stop it?

ALCIBIADES: (SOBERLY) Shut up, Sonny.
ALEX: (FRIGHTENED) Shush, Constantine.
THESPINA: (FEARFUL) Please don't say anymore, Constantine.
ALCIBIADES: (REALISTIC) Boy - there's firing squad really out there.

ROVAS: (SADISTICALLY) No, go on. I knew you were all holding out on me. There's got to be at least one like you in every town - at least one anarchist or a pacifist.

CONSTANTINE: (MATTER-OF-FACTLY) I'm not an anarchist - I respect all laws that respect people. And as for being a pacifist - I'm not even that. I'm just someone who's tired of fighting in other men's wars.

GREGOR: (MEEKLY TO ROVAS) He's just a harmless idealist, sir.
MAYOR: (ECHOING) He's always been a little stupid.
ALEX: (ECHOING) Punch drunk. A victim of wife abuse.

CONSTANTINE: (IGNORING THEM) I'm not even an idealist. I don't expect that by getting shot I will accomplish one single thing.

ROVAS: Then why are you giving up your life so easily?

CONSTANTINE: I'm not giving up my life - you're taking it. You've already taken it! By refusing to join you I'll be taking it back. I'm through bribing all of you with my sweat, my blood, my tears.

THESPINA: (WITH SOBERED CONCERN) Constantine, don't. Please don't.

CONSTANTINE: I'm not saying that I wouldn't be willing to fight, and even die for my country. But how can I be sure that by fighting and dying for you - that I will really be dying for my country? Yet I can be absolutely certain that by refusing to fight - I will be dying for peace. I prefer to die for peace.

MAYOR: Constantine, compromise a little.
ALEX: Never do today what you can put off till tomorrow -
GREGOR: While there's life there's hope, Constantine.

CONSTANTINE: For you, perhaps. For all the rest of you. But I'm a patriot. If I were to take part in that ambush tomorrow - I'd be the first man shot. And even if I were to escape tomorrow's fate - there would always be a next time, and a next time, and a next time. I say no. No to slavery. No.

THESPINA: But Constantine - tomorrow there may be another revolution.

CONSTANTINE: Another revolution? Another bunch of thieves or sadists or young robots taking over? Another bunch like my fine friend Alex, or Gregor, or your father? No - evolution is the only way, not revolution. Enough time to grow enough to eat. Enough time to put our homes and lives in order. Only peace can free this land, not revolution. (TURNS TO ROVAS) I curse this hand that drew the Thanatos. And I spit on you, on your father, and your father's fa- ther. And may all your offspring be sterile.

ROVAS: (UNAFFECTED) Are those your final words?
CONSTANTINE: (ANGRILY) Yes.
ROVAS: (EFFICIENTLY) Release the goat. Take him to the firing squad.
THESPINA: Wait! You musn't! You can't kill him. He's your own brother!
ALEX: You have the same father.
ROVAS: Is this true?
CONSTANTINE: Yes.
ROVAS: (WITH COLD REGRET, AND FLATLY) I'm sorry, old man. War is war.
THESPINA: Please, couldn't you let him go?
ROVAS: (COLDLY) I didn't make the rules. I have no choice.
CONSTANTINE: (FIERCELY AND INCLUDING THE AUDIENCE) Every man on that firing squad has a choice! But I've forgotten - they're not men - they're a bunch of boys. (NOW TO ALL OF THEM AS BEING CHILDREN) You want to free this land? There's only one way to do it - not by fighting wars, but by cutting all the barbed wire that keeps each of us in his private prison camp - minority against minority, race against race, opinion against opinion - even sex against sex. Free all the prisoners, and you will free yourselves. (CONTEMPTUOUSLY AND DISGUSTEDLY) I'm ready.

SOLDIER: About face. Forward march. (HE IS MARCHED OUT TO UP- STAGE)

ALEX: He'll change his mind, I'm sure of it.
GREGOR: They wouldn't really go through with it, would they?
THESPINA: Maybe he'll be able to tell them another old joke.

ROVAS: (EFFICIENTLY) Now then, are the rest of you ready to march? Attention! (THEY UNWILLINGLY STAND AT ATTENTION, ALSO ALL THE HAWKS IN THE AUDIENCE WHO HAVE NOT BY THIS TIME CHANGED SIDES TO THE DOVE SCHISM) Form a double line - women and children last. Forward, march! Hup. Hup. Hup. Hup.

(SOLDIERS, IN IMPROVISATION, BEGIN TO REGIMENT THE AUDIENCE AS THE ACTORS ARE MARCHED THROUGH THEM. OTHER MARCHING FEET ARE HEARD OFF STAGE.)

SOLDIER: (OFF STAGE) Ready - aim - fire! (A MACHINE GUN VOLLEY IS FIRED, THEN A PAUSE. THE SOLDIER'S VOICE, VERY CHILDISHLY, SIGHS.) Gee, fellers, I think this time we went too far.

(THE HOUSELIGHTS ARE NOW ON BUT THE ACTION CONTINUES IN THE AUDIENCE. THE HAWK GROUP IS MARCHED AROUND WHILE THEY SING THE BATTLE HYMN OF THE REPUBLIC. THE DOVE GROUP RESISTS BEING DRAFTED AND SINGS WITH THE AUTHOR, THE AUTHOR'S SONG JEERING THE MARCHERS.)

(THE SOLDIERS BULLY AND MARCH THE HAWKS AROUND FOR AS LONG AS THERE CONTINUE TO BE HAWKS. TO LEAVE THE ARMY THEY MUST FIRST BE LINED UP WITH THE DOVES TO BE SHOT AS DESERTERS. WHEN EVERYONE IS READY TO FACE THE FIRING SQUAD, THEY ARE SHOT BY THE SOLDIERS AND ORDERED TO FALL DOWN. THOSE WHO DO ARE THEN RIDICULED BY THE SOLDIERS BECAUSE NOW THEY ARE TOLD THAT THE GUNS ARE NOT REAL AND THEY SHOULD KNOW BETTER THAN TO TAKE ORDERS FROM A BUNCH OF KIDS JUST PLAYING A GAME.)